"Best team building event we have had!!"
- Jamey Johnston, General Manager at STAPLES Canada
What YOUR staff ARE SAYING:
"We need more personal interactions with people in other divisions."
"We want more social events during work hours :)"
"It would be fun to play games together. Good for teambuilding too!"
On-SITE CONVENIence
We bring the escape room to you. Our come-to-you model is an extremely convenient way to engage your staff in team-building activities without forfeiting unnecessary time and energy to do off-site activities.
FUN & effective
The escape room phenomenon has taken off for two reasons: they're fun and effective. Their effectiveness comes from the immersive nature, combined with the social component and time-bound challenges. And when it comes to team-building, you need something fun to get buy-in from staff, so escape rooms are the perfect choice.
EXTREMELY EFFICIENT
Stay open for business. We will come to you and transform your workspace or tow in our mobile unit. Once the escape room and debriefing exercises are finished, we leave your space even cleaner than when we found it.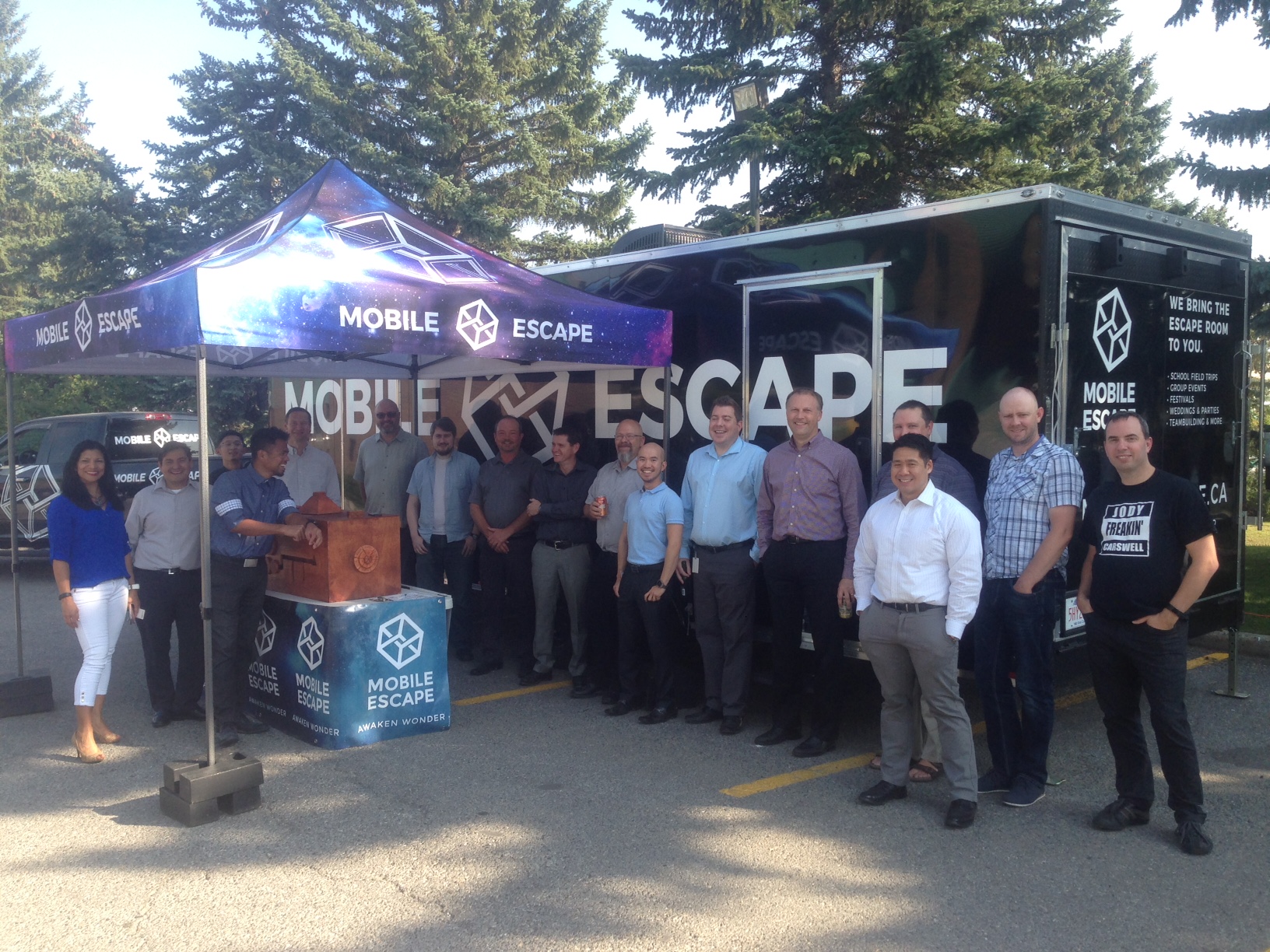 IMPROVING A PROVEN METHOD
Innovative teams around the world are discovering escape rooms to be an effective way to stimulate positive employee interactions. Many have already benefitted from an escape room's ability to increase communication, encourage thinking differently, and inspire collaboration. With Mobile Escape, you can leverage all the benefits of an escape room – right inside your office. When we set up in your boardroom or workspace, we infuse your environment with mystery, intrigue, and excitement.
CREATIVITY and COLLABORATION in the workplace
We all want our workplaces to be more creative, but how do you create creativity? You need to provide a stimulus for creative thought. In an escape room, your team will be submerged into a solvable puzzle in both time and space. Will they work together? In an escape room, everyone offers their unique skills to the team. Who on your team is a hunter? Who is a problem solver? Who is an organizer? Communicator?
MAXIMIZE THE EXPERIENCE with guided debriEf
Mobile Escape staff will walk your teams through a debrief exercise to unpack and maximize the escape room experience. What did you learn about the people you escaped with? What surprised you? What would you do differently as a team next time? A guided exercise helps your staff to reflect on group learnings and solidify knowledge. Don't miss any opportunities to capture positive outcomes that could result in staff breakthroughs during work hours. Watch as communication improves, silos fall, and relationships strengthen.